Description
Description
| | |
| --- | --- |
| | 10.14 lb (4.6kg) |
| | 39in (100 cm) |
| | 610 ft (185 m) |
| BATTERY PERFORMANCE | Up to 30 hours |
| | Li+ (2.2 Ah; 7.4V) |
| | Li+ (8.4V; 1000 mA) additional option  |
The Thompson submachine gun is an American submachine gun, invented by John T. Thompson in 1918, that became infamous during the Prohibition era. It was a common sight in the media of the time, being used by both law enforcement officers and criminals. The Thompson submachine gun was also known informally as the "Tommy Gun", "Chicago Typewriter", "The Chopper", and simply "The Thompson"
Thompson M1A1 submachine gun released in the 1943 year as a cheap version of the M1928 model. It has an automatics with free-breechblock, reloading grip in right side of the receiver, wooden shoulder stock, trunk without ribs and compensator, was used only with a box-shaped magazine.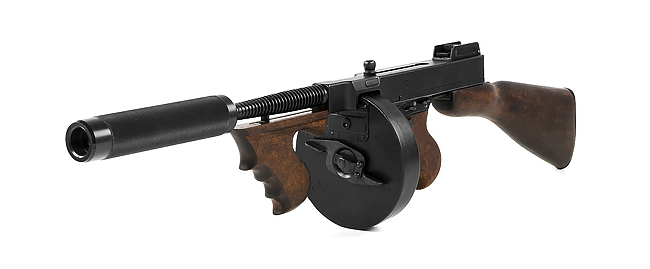 «Thompson M1A1» game set is based on a full-size replica.
Fore-end and shoulder-stock are made from wood and the body is made from metal. Game set uses lithium battery as a power source with 2.2 Ah capacity, providing up to 30 hours of battery life. Reload is done to the breechblock.