Look our video about laser tag profitability calculation
Before starting a laser tag business, operator needs to evaluate its profitability.
Obviously, specific figures will depend on your region and there will be a significant gap between salaries, rent costs and demand for laser tag services between rich cities such as Toronto and the poor cities like Cape Breton in Nova Scotia.
In addition, tax rates, the size of the minimum wage will also vary depending on your location.
Let's look at the average and approximate figures.
Investments
Let's assume that operator plans to buy 12 guns for starting laser tag business
The investments for 12 laser tag guns package will be 4,996 USD or 6,400 CAD.
Price

Qty

Total

Discount

Comments

302

10

3,020

V9 + feedback + OLED display

90

10

900

V9 RGB

10

1

10

50

1

50

Referee device

88

1

88

6 headbands charger

88

1

88

6 guns charger

Additional Equipment

70

1

70

Respawn device

110

1

110

Domination point

Free equipment

282

2

564

564

2 free items for 10 ordered

90

2

180

180

2 free items for 10 ordered

Shipment


Brokerage


120

1

120

Brokerage costs

Shipment


550

1

540

Shipment to your address (UPS)

Total


5,740

744

4,996
Customs duties will be about 100 CAD.
Total investments 6,500 CAD
Lets' assume that the operator uses the most inexpensive type of laser tag business – mobile laser tag. In this case, an operator doesn't need to rent a location and can run games in public places, like forests and so on.
The average wage rate for not hard and not a skilled worker is about $ 15 CAD per hour. You can hire teenagers, students and so on.
Payment for delivery of equipment to location can be $ 40 CAD.
Salary costs for 3-hour game plus delivery will be (12×3)+40=76 CAD.
In most cases, laser tag operator will need liability insurance that will cost about 60 CAD/month, or 2 CAD per game if we assume that operator runs 20 games/month.  Assuming you have 20 games a month liability insurance will be 2 CAD /game
76+2=78 CAD
Let's assume that the average price for 3-hour game for one person is 30 CAD, so each game can make cash flow up to 360 CAD.
But we understand that operator will have 4×4 games, 5×5 games, and 6×6 games. The average number of players will be less than maximum and operator will have 10 players in one game.
That's why each game will give operator ($30 for one person) x 10 persons = 300 CAD.
Therefore payout period can be calculated as follows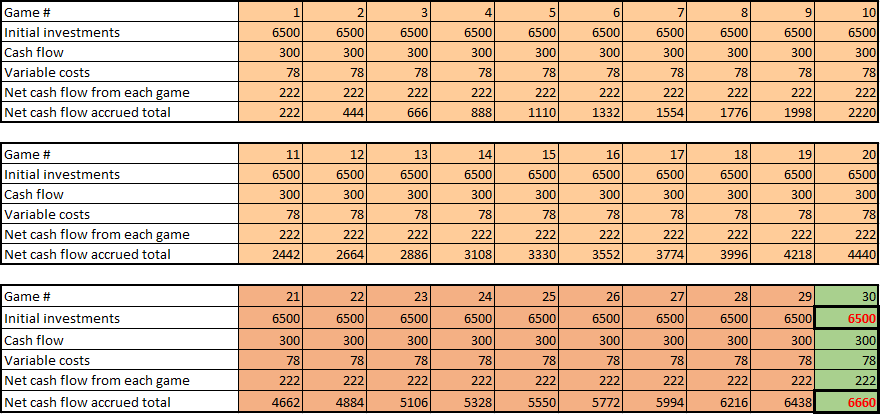 Roughly speaking operator will get its initial investments after 30 games. In most cases, 30 games after starting new business equal to 2 or 2.5 months.