Description
Description
The price is for black color.
Pixel, Multicam, and Woodland colors are options.
We are pleased to inform you about the launching production of our own tactical vests with hit sensors. The use of tactical vests in laser tag battles is a very popular aspect among MilSim players. And it is not just because such tactical vests add a military look to such games, the main advantage is that it also can be configured for reducing the taken damage thanks to special damage coefficients configuration. Therefore, you can easily set the desired parameters of damage coefficients for specific purposes and scenarios using the configurator software. For example, you can set damage coefficient 1 for laser tag headband and 0.5 for this tactical vest. If the player will be hit to the headband he gets full damage that is set for at the enemy gun. If the player will be hit to the tactical vest he gets 0.5 (50%) of damage that is set for at the enemy gun.
Polyester fabric, that is used in tactical vests production, was specially selected by LASERWAR. Wear-resistant fabric withstands high loads. This fabric is maintenance-friendly: it does not crumple, easy to wash (you can use machine wash), and it does not require ironing.
Laser tag tactical vest is adjustable from 36 to 50 US sizes (46 to 60 EU sizes) with special buckles. In addition, narrow fabrics are equipped with special rubber locks for special strap details. The tactical vest also has a lot of narrow fabrics for fastening additional accessories with «MOLLE» system.
On the chest area, laser tag tactical vest has a zipper, which provides vest to sit tightly on player's body. The vest also has additional fastex closures. The straps of the vest are adjustable in length and are fixed with velcro. On the back, this laser tag vest has a loop, which in the combat version is convenient for transporting a wounded person. We also provided the place for chevrons. The vest is equipped with four textile clasps (2 on the back and 2 in front) for mounting your club, team or company chevrons.
You can make your own patches with personal numbers, blood type or surname. The lower part of the vest can be additionally equipped with a lumbar support belt.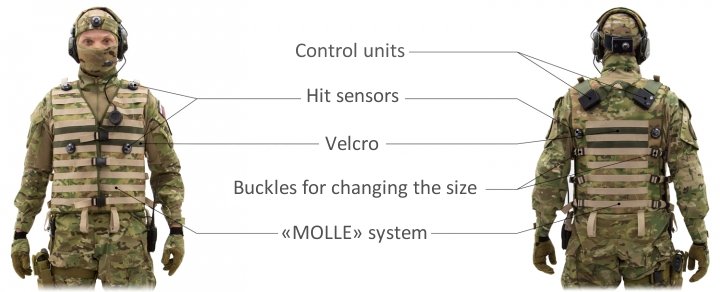 The laser tag tactical vest is equipped with 6 hit sensors and 2 control units, that are located on the front and back. The power source is a 2.2 Ah lithium battery, which provides up to 36 hours of battery life. The weight of the vest is 33,5 oz (950 grams). The vest is available in several colors: black, multicam, pixel, etc.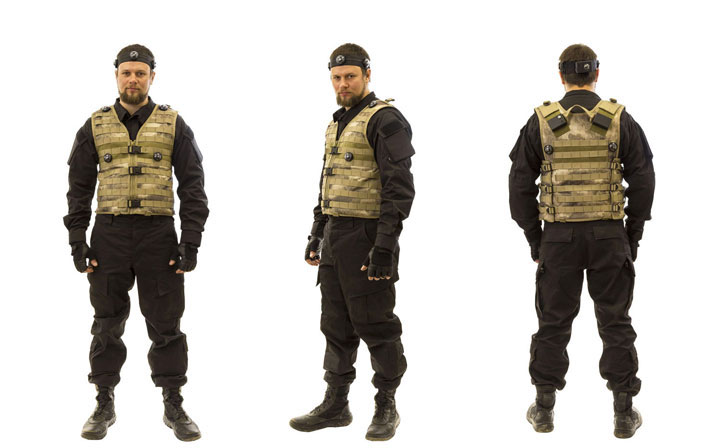 Moreover, we are ready to upgrade any your army vest. The cost of this operation will be less than $100. Therefore, if you have a desire to use your own tactical vest while playing laser tag, we will happily upgrade it.