Description
Description
| | |
| --- | --- |
| WEIGHT | 14.3 lb (6.5 kg) |
| DIMENSIONS | 11x11x15 in (27x27x38.5 cm) |
| | up to 24 hr  |
| | Li + (2,2 Ah) |
| | Li+ (8,4V; 1000 mA) (purchased separately)  |
For more than a year, engineers of «LASERWAR» developed a new universal device. The main goal was to create a universal laser tag device suitable for using absolutely in all scenarios and that replaces a lot of "specific devices".
The result of this hard work was a game device called "Command Post." Its main advantages are its unique exterior and good digital sound. Its 3W speakers can be heard from 50 meters. Professional sound effects bring new emotions and gameplay. Command Post put a new spin in the segment of additional laser tag devices.
All electronic components are compactly placed in the cover of the Command Post and in addition, it is protected with a plywood sheet. The power source of this Command Post is a lithium battery 2,2 with Ah capacity, that allows you to operate up to 12 hours without a break.
There is enough space that you can use at your own discretion inside the "Command Post", for example, for transporting small laser tag devices (Grenades, Mines, MedKits, Artifacts, Remote controls and so on.). Dimensions of the command post are 11 x 11 x 15 inches (27 x 27 x 38.5 cm). For easy carrying, it has handles at the sides.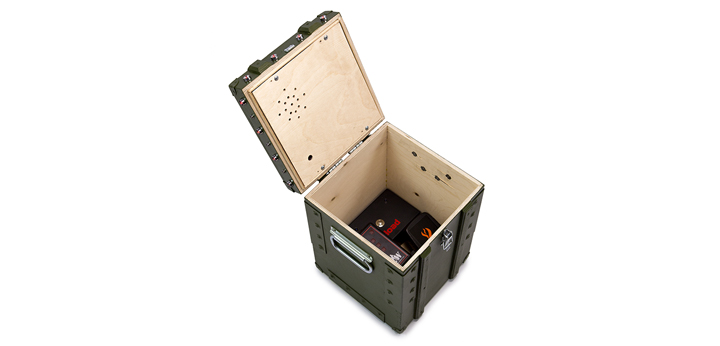 Turn it on with the key. This lock is on the back side of the cover near the supply socket. The perimeter of the cover has 15 bright LEDs and the upper part has 2 photosensors (recessed near infrared diodes).